*




*recorded and produced at QStudios

Windrift Music's 2002 Songwriting Competition Winners
The standard of the entries were once again extremely high, and our judges were incredibly impressed by everything that they heard. But of course, they had to decide whom to crown as the Overall Winner. This year, they could not choose between two of our Finalists, and so, for the first time, we have two Overall Winners. Our talented victors are JENNIFER MARKS from New York City for her amazing song, 'Make It Right' which is co-written by Jennifer Bruce also of NYC, and QUINTON STEPHENSON from Las Vegas for his fantastic entry, 'Cracker'.
This year's other Overall Grand Prize winner is Las Vegas based commercial painter Quinton Stephenson. While in high school, Quinton played in garage bands, and toured the Vegas scene playing in bars, back yards, and even in the middle of the desert when asked. Now, Quinton plays as part of a trio of musical tradesmen, along with a fish tank cleaner and a pest controller, and has been recognized with many musical awards. With a portfolio of well over 80 songs, all displaying a broad range of musical styles, Quinton plays like he was born with a guitar in his hands. These days, he concentrates mainly on writing and producing songs from his home studio, with his ultimate goal being to write songs for professional artists. Quinton has a song in his heart. He writes, he composes, he sings like a pro and he loves doing it. He's a man with a soul for music.

and a 2x winner in the
Wendys rolling stone jingle contest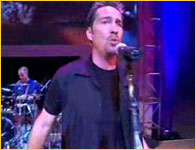 Last year, Quinton Stephenson turned his paintbrush into a microphone. This commercial painter turned musician proved that he knows how to write and perform a song that sizzles. His hamburger harmony, "Burger Love" climbed to the number one spot on the charts, surpassing 1,500 hamburger harmonies entered in the contest.
Real Player: 28 | 56 | 100 | 300
Windows Media: 28 | 56 | 100 | 300
Quinton was also
a finalist in the blublocker contest
We are delighted to announce that Quinton's song "Burger Nights", has made it to regional finalist, representing the West Coast, in the Wendys Sizzlin Sounds of Late Night Contest 2001! There are 5 regions. On October 8th Wendys will be posting his hamburger song on
www.sizzlinsounds.com
for online voting for Grand Prize winner. We hope to get your vote and remember to vote early. Please forward this request to all friends, family and co-workers who might be willing to support us with their vote.
Thank you to all,
Lisa Stephenson 10-01-01
Quinton wins again!
Read the article from the
Las Vegas Review-Journal


---
and he was interviewed in the prestigious ''Las Vegas Style'' magazine
---



God Bless America!
For more patriotism check out Alan Broze: The Red, White and Blue


since al gore invented the internet
© 2002 Poppagutz Publishing BMI