*The presence of possible alien artifacts on Mars is one of the most provocative enigmas ever confronted by science. NASA has also announced a new Mars orbiter to be launched in 2005.
NOOSE
IS TIGHTENING ON THE TRUTH
''THEY'' COVER UP THE PROOF
AND ''WE THE PEOPLE'' LOSE
LIE, AND FALSIFY
FACE
IS STARING INTO SPACE
IT'S MATHEMATICALLY PLACED
BY AN ANCIENT RACE
MARK THE PAST
BUILT TO LAST
*The Mound Geometry Hypothesis posits that sixteen Mounds
comprise a large redundant grid with specific emphasis on 19.5 degrees: a tetrahedral constant.
SHRINES
PYRAMIDS LEFT BEHIND
SO SOMEDAY WE WOULD FIND
EQUATION OF SPACE AND TIME
MODERN MAN WOULD
UNDERSTAND
UFO'S
TO EARTH THEY COME AND GO
AGENDA NO ONE KNOWS
THE ''PROJECT'' WILL DISCLOSE
CAN'T RESIST
CO-EXIST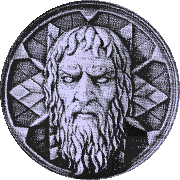 MP3 Sample

*Continuing discoveries such as the presence of surprisingly abundant liquid water
and a plethora of enigmatic surface features bolster the possibility of a former civilization on the Red Planet.
NOOSE
IS TIGHTENING ON THE TRUTH
''THEY'' COVER UP THE PROOF
AND ''WE THE PEOPLE'' LOSE
LIE, AND FALSIFY
FACE
IS STARING INTO SPACE
IT'S MATHEMATICALLY PLACED
BY AN ANCIENT RACE
MARK THE PAST
BUILT TO LAST
GROWN
STILL WE HAVEN'T SHOWN
WE'LL MAKE IT ON OUR OWN
INVITE US TO THEIR HOME
COSMIC KEY
THE MYSTERY
LEARN
BEFORE WE CRASH AND BURN
IS VIOLENCE THEIR CONCERN
WE HUMAN'S HAVE TO LEARN
HOW TO EARN
OUR PLACE IN
GODS BLACK SPACE
*Our understanding of Mars' surface will certainly change and evolve. Already, the widespread signature of hydrogen reveals a world much wetter than previously believed by the mainstream space science community. It appears as if Mars is an unexpectedly hospitable world capable of harboring indigenous life. ~Mac Tonnies~


---
Lyrics and Music by Zakas

© 2003 Poppagutz Publishing

* Narration written © by Mac Tonnies

Inspired by Richard C. Hoagland

13/8=narration 9/8=bridge 5/4=verse
---
---